Quite interesting analysis on how and why Singapore topped the ranking for PISA in Math/Science. One possible reason is the difficulty of PSLE trains students to solve tricky and difficult (for that level) math questions. It is well known that PSLE questions are more difficult (for students of their respective levels) than O Level E Maths questions. The peak difficulty in Singapore Maths Syllabus are at PSLE and then at H2 A Level Maths.
Overall, on average, the average Singaporean student is quite well-prepared in maths. Since PISA is measuring the average capability of students (rather than the top echelon of students), it is no surprise that Singapore would score rather highly in this aspect.
Note that China (Mainland) seems to be missing from the study. If China (especially if restricted to cities like Shanghai and Beijing) are included, they would be a strong contender for No. 1 position too, since it is well known that China Math is just as difficult, or even more so, especially at high school/senior high school level.
Source (in Chinese): http://mp.weixin.qq.com/s/lQx4kmqMwNsZEUlXQbRIzw
最近一个报告,说新加坡学中小学生的数理能力,在全球64个国家中,排名第一!
(阅读提示,本文有点长,没耐心看废话的,直接拉到最后看一下就好。)
引起不少网友的讨论。感觉上,最会算的,不应该是华人尤其是中国人吗?好吧,作为华人咱谦虚一点,犹太人俄罗斯人甚至美国人印度人,都有可能第一啊,数完一个巴掌也轮不到新加坡哇,又没解歌德巴赫猜想,也没研究天体物理出啥成果,出产的程序员不够内需,还要进口外援,凭什么?
一般江湖传说,中国中小学生到了国外,数学都能甩当地同级学生几条街。
我们来看看新加坡的数学题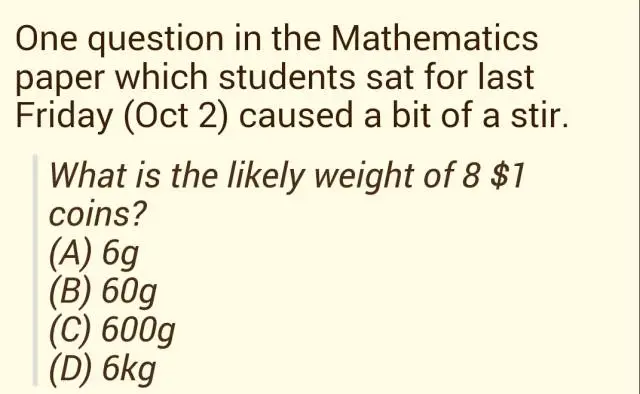 问:8个1元硬币大概有多重?备选答案 6克; 60克; 600克; 6千克。
或许有人会第一反应,这是奥数题。毕竟要考的点很多,生活常识、逻辑能力……,一般学生可不会碰到这样的考题。
事实上,它是去年新加坡小学离校会考数学题中的一道。
没有答对的读者们,你们小学能毕业吗?(幸灾乐祸脸)
有些孩子不懂怎么做,胡乱猜了一个答案,有些家长(新加坡眼觉得是恼羞成怒)就投诉考题超纲。
新加坡教育部的回应有理有据,考题可是根据教学大纲准备的,到底是大纲的哪一条,都能翻给你看。
说到新加坡的教育大纲,那也是杠杠的。
美国居然也采用新加坡的数理教材!足见根据新加坡大纲编写的教材,相当有章法。
(Translation: America is also using Singapore Math material to teach their students!)
新加坡小学生数理能力第一咋来的
在最近公布的《国际数学与科学趋势研究报告》。
一个国际教育组织,每四年都会随机抽取小学四年级和中学二年级的学生,做国际数学与科学趋势研究(简称TIMSS)。
去年,新加坡各中小学里,共有6500名小四学生和6100中二学生接受了调查,要跟64个国家和城市的学生一比高低。为了拿到更直观和准确的数据,学生们被分为四类:基本、中水平、高水平,优等,进行考察。
先来围观,这份调查是从那些方面着手的?
国际教育成就评估协会以试卷评估学生这些方面:(其实就是参加考试)
另外还有学生们对学习的态度等等。
考试的内容在这里~
看成绩~~以中二学生的成绩为例(有兴趣的网友,可以点击文章底部"阅读原文",查看全报告详情)
科学方面,新加坡597分。第二名是日本,571分,前后相差26分,差距还是不小,第三名是中国台北569分。
点击看大图
数学方面,新加坡621分,第二名韩国606分;第三名中国台北599分;第四名中国香港594分;第五名日本586分。
点击看大图
新加坡人的数理能力,到底强不强,我们听听在籍学生、资深数学补习老师、家有才女的、中国留学生,各方的意见~~
新加坡的资深数学补习老师,孙老师,在中国和新加坡分别有19年和8年的教学经验,教过中国的高中和大学,也在新加坡教过O level、PSLE考生,涉猎高等数学,并编写O Level 数学中英文教材,主要适用中国留学生,被私立学校广泛使用。
这样的排名可以理解。毕竟本地的孩子和家长都非常努力,想不拿第一都难。
1)本地数学题的特点:不出偏怪题,会让那些努力但不聪明的孩子,也有能力取得好成绩,不会失去学习兴趣。
2)新加坡的数学在某种程度上要比其他国家难。尤其是小五小六的数学word problems(相当于中国的应用题),比中国更难,因为不能用方程解,本地学生从小二就开始画model。 只有那些很聪明的孩子才能应付。(这句话真是说到了编辑部某位学妈的心坎里,回想当年陪娃儿读书,明明可以方程解,设个X,一元一次方程,不是很容易搞定吗,硬要从头学起画model,真是郁闷死了),所以本地有不少小五小六学生,会补习数学。毕竟从小五到高中毕业的A水准,要想拿A的话,还是挺有难度的。

传说中的Model,你看得懂吗?
3)至于中学数学,要比中国学得广,但没有中国深。本地更注重解题过程。数学的应用性也比中国强。它的O水准数学考试题目,时间比中国的中考长,难度比中国的也要大些。大概做个比较的话,本地的O水准高等数学一科,相当于中国高三的数学了(编者按:相对于中国高考考三天大概五六门,新加坡的O水准可是要考至少一个月的,而且像数学,也分好多子科目,单看所有科目的编号都是4位数的,就知道名堂特别多。)
今年O水准数学考试的部分列表
4)本地的A水平数学题目,像写论文。所以学生的推理能力必须很强,才能解答。
5)相比中国的数学注重计算,速度以及一题多解,所以中国孩子的基础非常好。如果在中国有经过4年的小学数学训练,再来新加坡的话,基本就不要补习了。尤其那些在中国学霸级的学生来新后,一定还是学霸。